As a business owner you have to do a little bit of everything, admin, strategy, sales and marketing but nothing could have prepared you for the onslaught that you currently face in the marketplace with non-essential stores closed for the forseeable future.
But just because your retail presence may have been forced to close doesn't mean you should take your foot off the gas, planning now for the future could stand you in a really good position for re-opening. Alongside this the digital marketplace does not stand still with many firms still trading online to some extent, even if you can't deliver your product at the moment, there are plenty of things that you can be doing to prepare.
Here are our 6 tips to keep things moving and prepare:
Learn From Your Users
If you haven't already done so, install an analytics package on your website such as Google Analytics and have a look at what users are currently doing on your website. This user behaviour analysis can tell you a lot about what your current and potential customersare looking for and help you understand how to better serve them.
Are your users looking at your product, or spending more time reading your news and blog? What type of content are they looking at, if they're reading your contact and delivery pages perhaps they're looking for reassurance that you're still trading and taking orders.
Content Strategy
You may only have a physical retail presence, perhaps you're dipping your toes in social media, you might also have an e-commerce website or just a online catalogue. However your business exists, now is the time to invest in digital content, but to do that successfully you need to have a plan to follow.
Investing in a content strategy will help give you focus and help you stay on track, publishing the right content at the right time. Think about your audience, what might they want or need to know, not just about your business but more generally. Not sure where to start, consider some of the following:
Guides on how to use and maintain the product you sell
Inspirational content related to your sector
Topical news

Are your staff volunteering
Are you pivoting your business to help those in need
Have you changed how you operate to stay open
Importantly, don't focus on the current crisis, the major news outlets will have that covered and you're not an expert in the field. Remember what you are an expert in and focus on that. Right now, people want and need good news stories, positivity and something to make them feel great.
Update Your Website
This should be an obvious thing to do, but over the past week or two I've encountered many websites which have not been updated to reflect current trading. You might think it's obvious to your current and potential customers that you're not trading, but unless you have told them that, how are they to know? At the very least you should consider updating:
Opening hours

On your website
On Google My Business

Contact details

Is there an alternate phone number for you

A statement about when you expect to reopen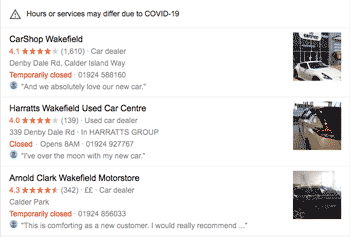 All of these will help to manage your customers expectations and help make sure they aren't disappointed to get half way through a purchase only to realise they can't buy from you.
Once you've sorted the basics, why not take some time to think about refreshing the wider content on your website. Refreshing product descriptions, starting a blog and improving product cross sell opportunities are possibly all things you've thought about doing previously but haven't had the time, perhaps now is the perfect time.
Review Your Paid Media
If you use paid media to advertise your business, review your ads and turn off anything that isn't currently relevant. This could be burning through money that could be better spent elsewhere or saved, ready to reinvest when restrictions on your business are lifted and you find yourself in a super competative marketplace.
Lead Generation
Depending on the industry that you work in, your traditional source of income may have been direct sales and this may not currently possible. If this is the case, lead generation could help to build a foundation of sales for future months.
Just because you can't deliver a product or service doesn't mean you can't quote for it, the rise of video calling app "Zoom" gives a nod to just how easy this could be. Whether you're a landscape gardener, builder, kitchen fitter or any other trade that requires being on site to do your work why not consider working differently and giving estimates via video? It might not be perfect, but by exploring different ways of working, you could find yourself with a list of customers ready for when things start getting back to normal.
Keep Customers Informed
This goes without saying: talk to your current and potential customers!
If you have a regular customer base, why not pick up the phone and ring round to say hello, check in on them and see how they're doing? This kind of contact is above and beyond what many firms would do and if you're not currently able to work it's a good use of your time. It will remind your custmers that you exist and more importantly, that you actually care about them.