We've all heard about cookies and for most of us, whether consumer, business owner or both, the conversation is probably a little boring with chatter about regulations and whether anyone really cares in the first place.
Background of Cookie Regulations
Regardless of whether any one actually cares about businesses placing cookies on their devices, the regulations were brought in as part of GDPR and have since been tweaked under the PECR regulations. Does your opinion matter abotu implementing cookies, not really, the rules are in fact more than rules, they're data protection law and in theory you can be prosectuced for not following them correctly.
That falls to the ICO however they don't have the resources to monitor every website and instead rely on users reporting websites who aren't following the rules. The problem here though is that many people who use the internet are not technical and don't realise that companies are taking advantage of them.
We Trust Our Digital Partners
Many businesses will argue that they don't have the time or the knowledge to be able to implement and manage a cookie management platform and this will be true for many small business owners who often turn to digital marketing agencies to look after their websites. So you'd think that these marketing agencies, experts in all things digital marketing would be sticking to the rules, afterall, you're going to be trusting them to get it right for you.
In the last few weeks, DO Digital has been researching 50 well known digital marketing agencies and their use of cookies on their websites to understand just how transparent and trustworthy they are when it comes to their use of cookies and the findings suggest that these digital agencies have their fingers in the digital cookie jar!
A Feast of Cookies
We took a look at 50 top digital agencies in and around Yorkshire and according to our findings there are a shocking amount of digital agencies which are flounting the rules, either setting cookies without consent or just ignoring whether that consent has been given or not.
Now we must say at this point that a cookie management solution such as the free cookie manager that we have shared, is only required if you set cookies through your website. If you're not setting cookies, then you don't need to worry.
In our analysis we looked at 3 key items with relation to the cookie management used by the digital agencies in and around Yorkshire. Firstly and perhaps most importantly, whether the website was setting cookies and if so, did they use a cookie notice to warn users of this. We then looked at the type of cookie message which was used by the website and finally we looked at whether cookies were still set or updated after we had rejected the use of cookies.
Our Findings
As a starting point we looked at whether the agencies were even using a cookie message to warn us of their use of cookies. It's worth saying at this point that 92% of the websites we reviewed were setting cookies which we should have had the option to reject.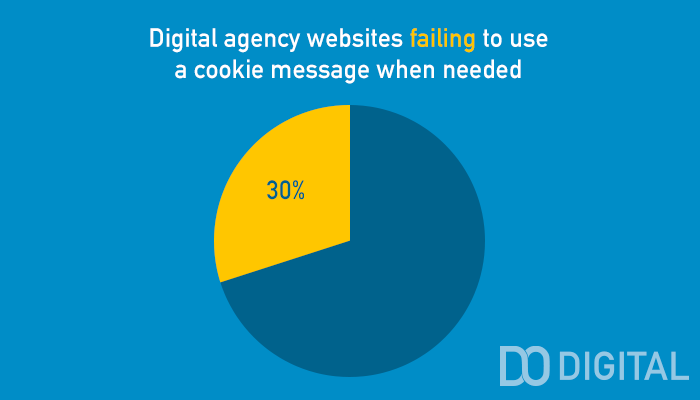 While 70% of audited websites were warning their website visitors about the use of cookies, the remaining 30%, that's 15 digital marketing agencies in and around Yorkshire are failing to warn their users and potential clients that they are using cookies to track their behaviour.
Even though more than two thirds of agencies have a message of some sort of message in place, the type of notification which is used is also important. Historically, it was enough to warn users that cookies were being set though more recently the regulations were updated and websites must now give users an option to accept or reject cookies.
Of the 35 agencies which did have a cookie warning our data suggests that many are failing to give users the right options. As a base level, users should be able to choose to reject cookies as easily as they can accept them, with no cookies being set until a user has given consent and finally a user should be able to change their consent as easily as they granted it in the first place.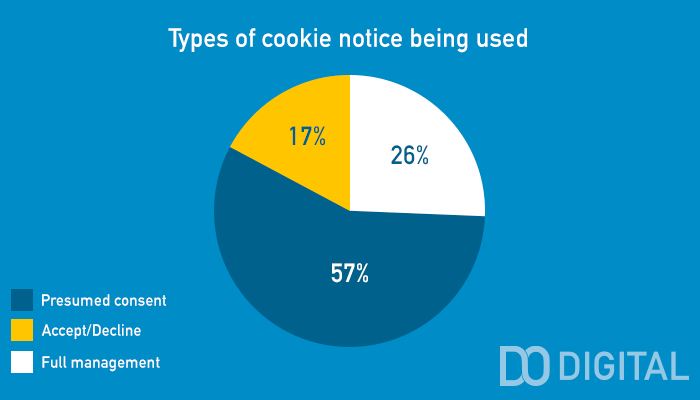 In our analysis we found that over 57% (20) of the agencies we reviewed were still using a basic cookie message which presumes consent and doesn't give users an option to accept or reject cookies.
Finally, we took a look at the websites which were setting cookies either without a cookie notice or once a user had rejected cookies. This is perhaps the most shocking of all the data we gathered with almost 88% (44) of websites checked continuing to set cookies without the users' consent.
The cookies we saw being set ranged from analytics platforms through to AB testing tools but ultimately all of these take away the ability of the user to define what they want to be stored on their device and how they want to be tracked. The big question that we also need to answer, specially so if we're looking to use one of these agencies, is if these agencies can't get it right on their own website, how are you meant to trust them to get it right on yours.
Looking back to an earlier point too, if your website doesn't handle cookies properly who'd be liable for the fines that the ICO could hand out.
Below is a list of all the agencies in our research who failed to provide the correct cookie management at the point of reaserch:
Journey Further
InterMarketing
Enjoy
Stickyeyes
Bobble
Maratopia
Pure Agency
Parallax
Delete
Jaywing
Wolfenden
Pedro
Blueclaw
SOAP
Forever
Mosquito
Gorilla
embryo
candid sky
Custard
Northern
Finsbury
Vizulate
Caboodle
Bigfoot
Agency 51
Yorkshore Marketing Company
Dept
Visualsoft
Search Laboratory
CDS
ICS-digital
CTI Digital
Mediaworks
Edit*
EPAM (previously Think)
Summit Media
Code Computerlove
Click Consult
Regital
Apadmi
Fat Media
The SEO Works
Enjoy Digital