With my racing plans all over the place for 2020 I decided to head back to Teesside Karting for round 2 of the NRG Cycles Sprint Championship this weekend. I'm treating the series as a little bit of fun to keep my eye in this year as I work towards other options for next season. It's a good job too as it turned out to be a terrible day.
Qualifying
Allocated kart 20 for qualifying and heading out on a damp track after an earlier downpour I was expecting the kart to feel a little loose in the tight corners. As it happened, it was only the right handers which were causing me issues with limited grip making it really hard to get on the power out of the corners. This was costing me time down the only long straight and I was struggling out of a right hand hairpin.
With my laptimes being read out in my ears I could hear that I was dropping down the order, ultimately being 28th I knew I should be higher up the order and it was more than the weather affecting my drive. With 2 minutes lefts of qualifying I decided to bring the kart in to the pits for a change and give myself time to get out and set a single fast lap.
The team in the pits did a great job to get me changed into another kart and back out on track but a good flying lap was compromised by a driver error as I pushed too hard and had a slide through the second hairpin.
Quali done, I lined up a dissapointed 28th, a long way from where I know I'm capable of running.
Race 1
So I knew I had it all to do in race 1, down in P28 the best I could hope for was to get into position 15 for a reverse grid pole but it was going to be hard work. Off the line I got a good start but lost a place as the pack bunched through the first chicane and long right hander, as ever with sprint racing just getting through the first few corners okay is important.

By the end of lap 2 however I was up to 25th after several drivers suffered issues with one stranded on the outside of hairpin 4, stood out of the kart and out of the race. What happened next confirmed that I would probably end up changing my kart again before the race was out, the drivers that I'd passed proceeded to stream back past me over the following laps pulling away at about a second per lap.
By half distance I was back in P27 though it felt far worse than that and seemingly unable to pull any time back on the drivers in front I'd already made the choice that I'd pit for another kart change on the final lap so I could try and get a new kart warm ready for race 2.
Race 2
After changing my kart at the end of race 1 I was back out on track and managed one lap to the grid where I could warm the tyres on the kart. The seating position on this one was far more reclined which felt more comfortable and pulling to my grid position I was hoping for a better race than I'd experienced so far.
With the frustrations of my racing so far, I was determined to drag a decent performance from this second race and lets face it I couldn't go any further backwards really, my aim was a top 15 finish though in reality I just wanted to be as far forward as I could be.
Off the line I found some space and heading through the first few corners I was able to make two or three places as other left a small gap and as is often the case on lap one there was a coming together of some drivers in the first hairpin. Being at the back it was difficult to see what happened however looking at the lapcharts on Alpha Timing it appears the leader had an issue, dropping from the lead to 29th. That aside I managed to thread myself through the carnage and pick up another handful of places to end lap 1 in 20th.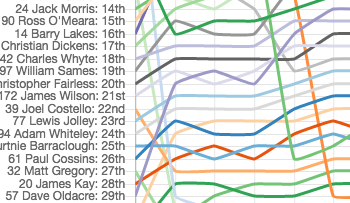 From here I knew I had a half decent kart and could push on for the rest of the race, it wasn't going to be a win but a top 10 finish seemed like a realistic hope. It was time to get my head down and pick off the places in front.
The next few laps saw me pick off another couple of places and an issue for Jack Morris saw me handed another place, putting me up to 16th and by lap 5 that became 14th as I caught a train of drivers in front. From here I was starting to mix with more experienced drivers who were defending hard and it proved more difficult to move forwards.
A hard battle ensued with some hard moves made by me and those around me but it was all fair racing. Racing with Michael Shepherd and Ben Pickard we were nose to tail and on lap 13 I finally managed to move up to 12th where I stayed for 7 laps until a recovering Jack Morris made his way through the pack.
Ultimately I'd finish back in 14th after a back marker caused an incident in the final hairpin and the avoiding action cost me all of my pace out of the last corner and I was beaten on the line by less than 0.1 seconds.
Ultimately I'm frustrated with the weekend and having a real mix of equipment and having had to change karts at both rounds this season I'm questioning whether to look at an owner driver championship instead, watch this space.