Heading up to Teesside Karitng on Sunday thoughts about my own performance were heavy on my mind following a recent decline in race results in recent events. I've been sliding down the positions in the Championship standings and struggling to understand why, after the last race I did a lot of soul searching to try and understand where I was losing time on the track.
While I was contemplating this, another thought also occurred to me in that motorsport is remarkebly similar to running a business. The main realisation I had was that I wasn't losing time in any one place on track, but rather in lots of little places, I had become complacent and this was costing me valuable time on the whole. The same logic also applies to running digital marketing activity, there isn't a silver bullet to make things work, instead campaigns often need to be worked on over a period of time and it's often this lack of optimisation which leads to digital campaigns failing.
Small Gaps, Big Differences
A great example of how the smallest margins can make the difference between success and failure came in qualifying. The session started with one of the engines on my kart cutting out, once it was restarted I got my head down and started putting laps in. I knew there was time to be found and as it was qualifying I knew that if I spun it wasn't the end of the world, so more calculated risks were taken, breaking slightly later, turing in harder and picking up the throttle sooner.
As you can see from the results those little bits made a huge difference, at the end of the session positions 2 to 8 were separated by less than 0.2 seconds. It might not seem like much, but starting nearer the front means you're less likely to be involved in first corner incidents.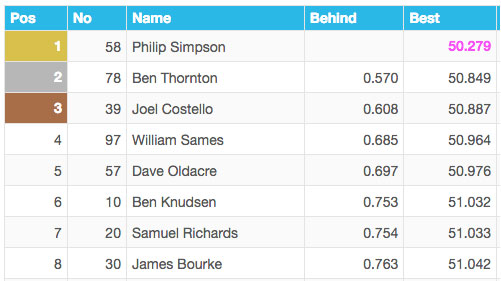 It's not just a short stint that matters though, racing, like running a business is about the longer game and after qualifying in fifth. The next challenge was converting that into a good race result much like how a single marketing campaign won't deliver long term success for your business, you need to use it as a springboard to build from.
Into race 1 I took position 4 from the start but with drivers behind pushing to get past the race very quickly became about defending my position, there were places being swapped what felt like every few corners but I held my nerve to finish fourth.
Race 2 was a reverse grid race and finishing fourth in race 1, I started in P12 for the second race. Off the line and into the first corner I immediately realised that something was wrong with the kart, as I turned into the first right hander I had armfuls of oversteer and this continued through the race. I think it was a left rear tyre pressure issue as everything was fine on the left handers.
This is where I had to persevere though as I knew coming into the pits to fix my kart would have meant dropping to the back of the field and losing valuable points. As you can see from the lap chart there were some big challenges but I wasn't going to give up and eventually came home to finish 10th.

It's vital that you remeber this about your business too, it's not a short sprint and there will be good times and bad but by focussing on the challenging you face to can overcome them and be successful.