It seems like forever since I took part in my stage 2 qualification round at Blyton Park in May and I suppose 4 months almost to the day is quite a long time but the final stage of the 2019 Want2Race competition was here. There was an expectation for me that making it this far was a given, but now the hard work was going to start and it really could be anyone walking away with the prize given the golden rule, spin and you're coming in and this happened to more than one competitor.
When I entered the competition I really didn't have any expectations set in stone except for making stage 3, this is where I got to when I last entered in 2015 and having got to the same stage this time one this is for sure, the standard of driving has got a lot better. Beyond getting this far, my objective was simply to take each part as it came focusing on the challenge immediately ahead rather than getting carried away with what might, or might not be.
Day 1
The final was due to run over 3 days and it felt like a big group, certainly more than I was expecting to see and my immediate thoughts turned to how we'd all be fighting for 10 places. As it turns out the first two days had been combined, so we were fighting over 20 places and while there was a great mix of people in attendance there was clearly a number of very good drivers providing stiff competition.

The first day saw a number of activities taking place with drivers able to book passenger laps with BTCC driver Michael Crees and take to the track in go-karts alongside competing in their 2 competition sessions out on track in the G40 race cars. This helps to break the ice and provide a distraction on what is a very long day between sessions.
In terms of my two track sessions, my primary goal here was to do enough to get through to the second day without doing anything silly like spinning the car (this means automatic disqualification). I also wanted and needed to learn to trust the grip of the car more having nearly spun on a damp track when driving last.
Both of my driver coaches for the day, Max Coates and David Pittard, were excellent mentors in helping me to achieve this through positive feedback on and off track resulting in better apex speeds as my sessions progressed.
At the end of the day, all 50 drivers were rounded up to hear the verdict on their driving after an extended deliberation by the judges. As the names were reeled out the tension started to build, over 50% of drivers would be leaving at this point and it's a pretty brutal way to find out. My name was called about 8th and it was such a relief to hear it, day 2 was calling.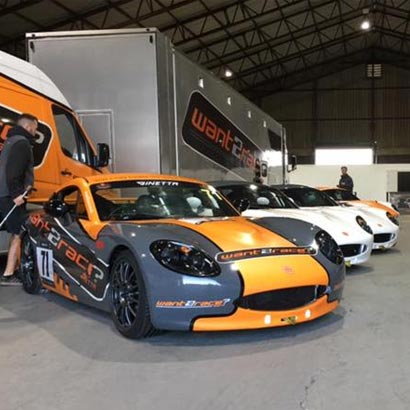 Day 2
So there we were, a fresh crisp morning back at Blyton Park with the top 24 drivers. The day was made up of two parts with all drivers taking part in two further sessions in the morning, and the top 10 being invited to take part in a head to head shoot out in the afternoon. As you'd expect the pressure was really being ramped up now, fewer, better drivers and the same rule about spinning still applied but also to really mix it up the team at Want2Race also changed the circuit and having never driven it before I knew it was going to be a tough day.
So now I faced a real challenge, learn a new circuit while pushing but not spinning. To be fair this is a great test of a driver's skill to learn a new track in limited time and given the eventual winner will race at 4 different circuits with limited testing it's crucially important.
Session 1
Heading out for my first session I had Max alongside me and after a couple of sighting laps I started to push. The eastern circuit is a tough one and features a long right hand corner with a tricky braking zone which calls on the driver to brake, change gears and rotate the car in quick succession while a bumpy area of circuit adds to the challenge. I knew I wanted to avoid spinning and I think this played into an under performance in the session, pulling into the garage at the end of my laps Max's parting words to me were,
"You've only driven at 70-80 percent, I know you can do more"
and it's safe to say I was gutted, yet I knew it was true. In the back of my mind I knew I was going into the second session on the back foot and if I wanted to progress it was essential that I upped my game.
One of the activities which Want2Race lay on over the finals are passenger laps with a professional driver and in this case it was BTCC driver Michael Crees, himself a product of this competition just 4 years ago. As the circuit was new to me I'd booked on so that I could learn the track before getting in the car, but timings meant that my passenger laps came between my track stints and this turned out to be a good thing. Seeing a professional driver attack the circuit in the same car showed me just how far you can push the G40 without it losing the rear, cementing in my mind just how far off the mark I'd been in session 1 with Max.
Session 2
Getting back into the car for me second on track session of the day I was alongside David Pittard, the head coach of the competition and a stickler for track limits which we'd all been warned out in the drivers briefing. Heading onto the track it was straight into attack mode, hard acceleration and braking from the very first complex, attacking the corners and balancing the power to get good traction on the exit. The track was giving up loads of grip too so through the sections of the lap which I knew well I was really pushing the car and could feel it on the edge, having to open up the steering slightly to let the car carry itself through the corners.
This was a go hard or go home session and I gave it everything I had, getting out of the car I was happy that I'd given my best and if I were to be knocked out at lunch it would be with my head held high. By this point a number of other competitors had spun and been eliminated from the competition, you have to feel for these drivers some of whom were visibly emotional such is the passion they have for the competition and then there was the waiting. Waiting for the judges to make their choice about who would be taken forwards to the next and final stage of the competition, the head to head shoot-outs.
While we were waiting another challenge raised its head, the heavens opened and a deluge of rain hit the circuit and though it was only a short shower, the circuit took a soaking but started to dry reasonably quickly. With a damp track ahead, the Want2Race team came to deliver their verdict, names were to be drawn out of a hat for the various head to heads and the tension really built as the remaining drivers waited to learn their fate. I'd convinced myself that I wasn't going through to the afternoon, the next thing I knew my name was not only pulled from the hat, but pulled out first and against Matt Parkin, a fellow competitor who'd progressed through the competition alongside me.
Head to Head
In that moment I felt shocked, surprised, relieved, excited and nervous as in about 10 minutes I needed to be kitted up and ready to take to the track as one of the best 4% from a field of over 300. What's more my head to head was first on track in mixed dry and damp conditions, fortunately at my stage 2 event the circuit was in a similar condition so there were reasonable levels of confidence to be had that I knew how hard to push the car.
Getting into the car there were a couple of surreal moments, the first was being treated with the upmost respect by the mechanics as I was strapped in, given an "urban" handshake and told to go drive a race car and the second was Max Coates following that with the phrase "now you know what it feels like to be a real racing driver". It was time to head out of the garage, warm the car, brakes, tyres and find the grip before pulling onto the grid for a 2 lap shoot out; by now I was starting to believe I could actually do this, but first my thoughts turned to getting round in one piece and very, very quickly!
My run went well and you can watch the video below, shortly after this however the heavens well and truly opened and the remaining competitors were racing in horrendous conditions, innevitibly this caused a few drivers to spin but ultimately everyone made it back in one piece. With all the head to head battles complete, it was once again time to wait as the judges deliberated on their final decision, the winner of the 2019 competition.
We waited.
And waited some more.
Finally we were gathered round the cars and race truck for the announcement of the winner and despite giving everything I had it was not to be my year. That said though, this competition has taught me an incredible amount and developed my race craft significantly and one this which spurs me on is the feedback that I just need to spend more time in a race car to improve what I'm doing. Something else which is providing food for thought were the comments to all the finalists that any one of use is good enough to be on the grid, race well and score points.
Ultimately this has got me thinking about what to do next season, do I enter the Championship myself or do I enter the competition again? I won't be making a choice right now, but the next few days will help me decide what the right path is.